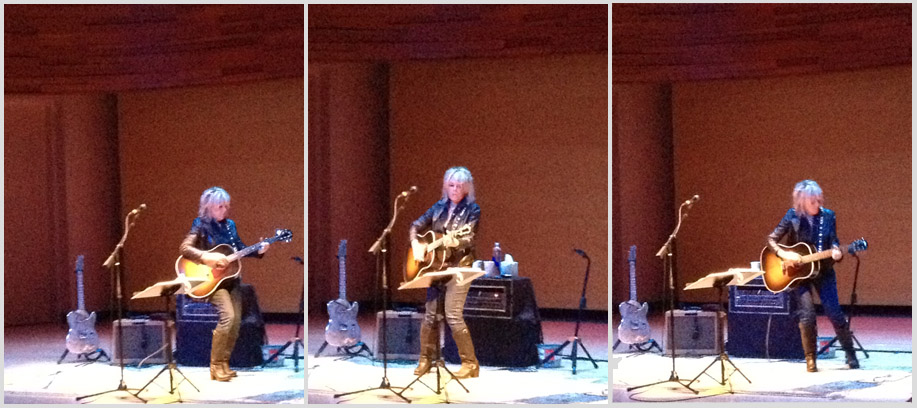 Lucinda Williams at the MIM on Friday
© Proper Manky 2013
Went to see Lucinda Williams at the MIM on Friday with TLMW and MS.
The 300-seat auditorium at the MIM was an intimate venue for Lucinda Williams and her typical low-key, self-effacing style. She was superbly accompanied by guitarist Doug Pettibone and they played a full, uninterrupted set of standards plus a couple of newer songs.
Their set started out with Car Wheels on A Gravel Road and her homage to New Orleans, Crescent City. Next up was 2 Cool 2 B 4-Gotten, with that great "june-bug vs. hurricane" line. LW started playing the song on her guitar but quickly gave up for not getting the tune right ("that's so fucking embarrassing") and launched into a boisterous version with just her wonderful, gravelly voice.
Next came People Talking and Jackson, both songs showcasing her strong foothold in roots and Americana music. In Born to Be Loved, a song from her newest album, LW sang with a deep voice full of hope rising above words of pain and anguish, reminiscent of an Odetta song.
This was followed by a pretty ballad, "Place in My Heart", apparently a new song the two performed alone for the first time. Next up was Blue with a great verse:
Go find a jukebox and see what a quarter will do
I don't wanna talk I just wanna go back to blue
Feed's me when I'm hungry and quenches my thirst
Loves me when I'm lonely and thinks of me first
Daughter of a poet. That was followed by Bitter Memory, one of the songs she just recorded for the new ABC show Nashville and Jail-House Tears in a swinging duet with DP. He did a passable job, but few can be as convincing a bad boy loser as Elvis Costello was when he recorded the song with LW a few years ago.
Following that came the famous country song, Apartment #9, which is normally unbearable to me when sung by Tammy Wynette, but LW brought out all the soul in this old torch song. A wonderful version of Well, Well, Well came next.
One of my favorite LW tunes is Pineola, her moving eulogy to the poet and family friend Frank Stanford who committed suicide in the 1970's while LW was living with her family in Arkansas. She introduced the song saying that she took some poetic license with the song and changed Stanford's religious affiliation from Catholic to Pentecostal. It's a lovely touch not only because it gives the song a "Southern Gothic" feel overall but also because it allowed her to rhyme:
Born and raised in Pineola, his mama believed in the Pentecost
She got the preacher to say some words so his soul wouldn't get lost
LW next performed her song Drunken Angel, which she said she wrote for a promising songwriter in Austin named Blaze Foley who was shot at a young age. But, she said, she could have written the song about any other singer/songwriter who died too young, like Gran Parsons, Curt Cobain, or Townes Van Zandt. Her southern charm, however much a cliche that may be, was on full display during the intro to this song. She then turned to a rocking version of Real Live Bleeding Fingers And Broken Guitar Strings.
Next came her rendition of an old Skip James song, Hard Times Killing Floor Blues. "He wrote this during the Depression," LW said, "but of course it's still relevant today." She closed the main set with two uplifting songs. First came Joy, an updated version which has taken on a whole new meaning as part of the West of Memphis soundtrack, and then DP and her rambled through Honey Bee, a classic rock 'n' roll tune with a dose of children's music so corny only someone like LW could pull it off:
Oh, my little honey bee
I'm so glad you stung me
You've become my weakness
Now I've got your sweetness
All up in my hair
One wonders what she's really singing about.
For one of the encores, LW played a beautiful version of John Denver's This Old Guitar, which she apparently just recorded for a tribute album. The last two songs were her rocking Change the Locks and her Delta blues Get Right with God, performed in the Mississippi Fred vein. For the encore songs, LW and DP were joined on stage by Walter Salas Humara, founder of The Silos, who also opened up for her.
All in all, the show developed slowly at first. There were a few rough spots and LW quipped she had been told before that she "had a lot of soul but needed to work on her stage presence". Yet, LW and DP eventually found their groove and put on a relaxed and at the same time very passionate performance. "It's all kind of lose tonight," she told the audience, "hope everyone else is too". She got through it all just fine and left no doubt that she is still one of the most gifted songwriters in American music, all of her songs full of detail, poetry, and humanity.
* At one point during the show LW, referred to herself as just a "sweet old southern thing".
Addendum: The concert at the MIM on Friday was so delightful, that MS and I decided to drive up to Flagstaff on Saturday and also see her concert at the Orpheum. And we're glad we did! While we fully expected to find ourselves in a Groundhog-Day-like time loop, much to our surprise about 60% of the set list turned out to be different from the night before.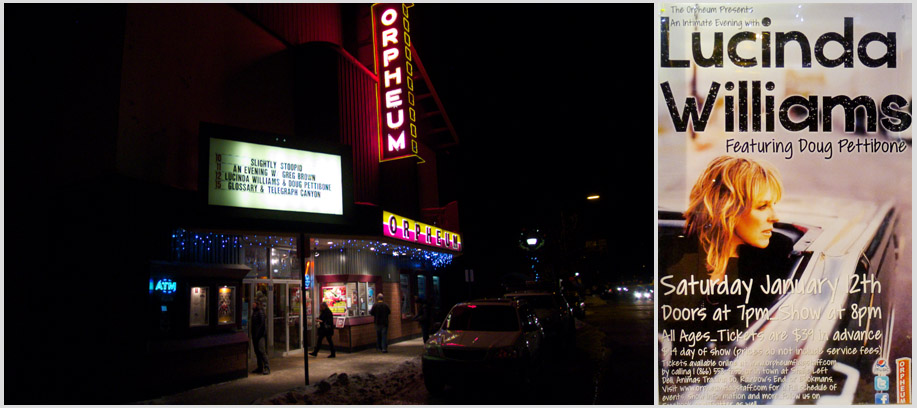 Lucinda Williams at the Orpheum on Saturday
© Proper Manky 2013
There was a different vibe about this show: LW seemed more confident and in charge and started off the first half of the set with a series of elegiac songs that set a great mood. The atmosphere was electric inside the Orpheum on a bitter, cold night. The place was packed with limited open seating and standing room. LW and DP clearly enjoyed themselves and let it rip in the second half. LW in particular was in rare form. "Maybe it's the altitude", she offered. They unleashed their inner Neil Young and even Jimi Hendrix on several songs and generally jammed brilliantly all night.
Ventura sounded beautifully stripped down to just two guitars and LW's voice. In Fruits of My Labor she sang about lavender, lotus blossoms, tangerines and persimmons, sugarcane, grapes and honeydew melon in a way one could almost smell and taste them. Her ode to the West could as well have been a love song to Arizona and featured a nice, long DP solo. A song about lost love, Over Time, was another beautiful ballad – only Willie Nelson was missing to sing in a duet with her. Something Wicked This Way Comes, a title she borrowed from a Ray Bradbury novel, was apparently also in contention as a theme song for the ABC series Nashville. LW and DP treated the song like a hellfire and brimstone, Gothic country tune. Afterwards, LW went off on automatic assault weapons, the 2nd amendment, muskets, the NRA, and "John Bonehead" for several minutes. Bitter Memory was one song that sounded a lot better than the night before at the MIM. The Delta Blues Down the Big Road was raw and powerful.
Altogether, two very enjoyable concerts in two days!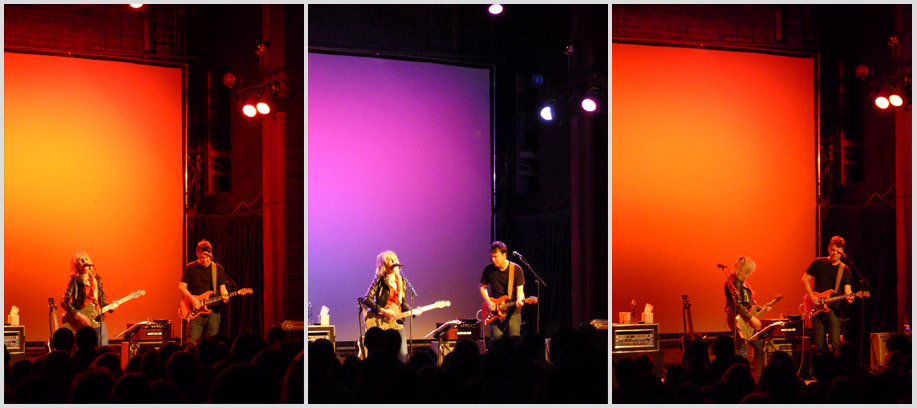 Lucinda Williams at the Orpheum on Saturday
© Proper Manky 2013
MIM – Friday January 11, 2013
Orpheum – Saturday January 12, 2013

Car Wheels On A Gravel Road
Crescent City
2 Kool 2 B 4-Gotten
People Talkin'
Jackson
Born To Be Loved
Place in My Heart
Blue
Bitter Memory
Jailhouse Tears
Apartment #9
Well, Well, Well
Pineola
Drunken Angel
Real Live Bleeding Fingers
Hard Time Killin Floor Blues
Joy
Honey Bee

Encores:

This Old Guitar
Changed The Locks
Get Right With God

Can't Let Go
Metal Firecracker
Right in Time
Ventura
Place in my Heart
Fruits of My Labor
West
Over Time
Jail House Tears
Apartment #9 (aborted)
I Lost It
Drunken Angel
Something Wicked This Way Comes
Essence
Down the Big Road Blues
Joy
Honey Bee

Encores:

This Old Guitar
Apartment #9
Change The Locks