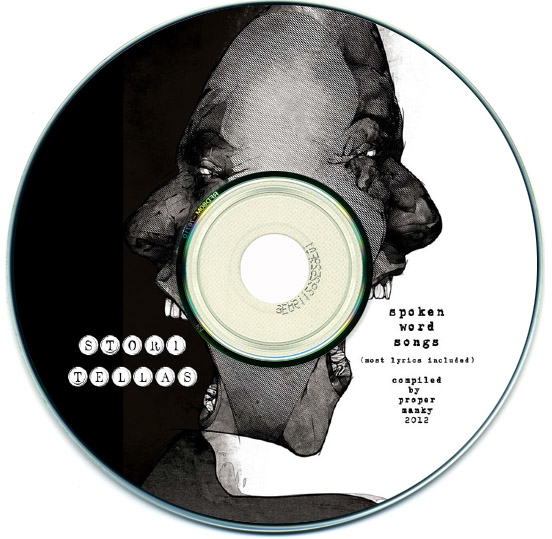 I have long been a huge fan of storytelling or spoken word "songs". My definition for these types of "songs" is simple: spoken lyrics plus music, but no singing. To illustrate by way of exclusion, my definition does not include any of the following:
"songs" that have, for example, spoken intros but then continue in sung form
poetry readings without music or long storytelling monologues like the ones by Spaulding Gray (but it might include, for example, Beat poetry that is accompanied by music)
"songs" using a vocal technique somewhere between singing and speaking, what the Germans call Sprechgesang in which pitches may be sung, but generally the articulation is rapid and loose like speech. Examples are e.g. many songs by Leonard Cohen, Bob Dylan, Tom Waits, Randy Newman, Gianmaria Testa, Paolo Conte, and many others.
as a matter of principle, anything by William Shatner
I've made no attempt at putting together an encyclopedic playlist of "songs" under the above definition. Hence, another limiting criterion I have applied to the working playlist below is that I have to 
like
the "song". I could have included many other examples but, as the case may be, I just didn't care for the story, the voice, the music, or something else. In other words, the playlist below has been rather fickly curated with my whims and biases in mind.
For the vast majority of "songs" included in the list below I have found, and edited where needed, the corresponding lyrics. Precisely because many of the "songs" tell stories – some sad, some strange and surreal, some insanely funny, some angry, some poetic – it adds to the pleasure of listening to them when one can also read along. A PDF version of the lyrics is here – individual copyright claims apply even if not stated.
Needless to say, I am always on the look-out for new material. Please pass on the good stuff.
| | | | | |
| --- | --- | --- | --- | --- |
| # | Artist | Song | Album | Time |
| 1 | Regina Spektor | Whisper | Soviet Kitsch | 0:45 |
| 2 | The Velvet Underground | The Gift | White Light/White Heat | 8:19 |
| 3 | Belle & Sebastian | A Space Boy Dream | The Boy With The Arab Strap | 3:02 |
| 4 | Looper | Columbo's Car | Up A Tree | 4:54 |
| 5 | Moby | If Things Were Perfect | Play | 4:19 |
| 6 | Touch and Go | Tango in Harlem | I Find You Very Attractive | 3:26 |
| 7 | Ralph | Acid Jazz On a Rainy Day | This Is for the Night People | 3:43 |
| 8 | Gotan Project Feat. Juan Carlos Cáceres | Notas | Lunático | 4:21 |
| 9 | Jim Morrison & The Doors | An American Prayer | An American Prayer | 3:04 |
| 10 | Jim Morrison & The Doors | Hour for Magic | An American Prayer | 1:18 |
| 11 | Jim Morrison & The Doors | A Feast of Friends | An American Prayer | 2:11 |
| 12 | Ginger Baker Trio | East Timor | Going Back Home | 4:42 |
| 13 | Bob Dylan | Three Angels | New Morning | 2:10 |
| 14 | Belle & Sebastian | A Century of Elvis | Push Barman to Open Old Wounds | 4:29 |
| 15 | Quincy Troupe | Change | The United States Of Poetry | 1:29 |
| 16 | Tom Waits | Frank's Wild Years | Swordfishtrombones | 1:54 |
| 17 | Federico Aubele | Mona | Gran Hotel Buenos Aires | 1:58 |
| 18 | Up, Bustle & Out | Havana's Streets | Rebel Radio Master Sessions, Vol. 1 | 4:02 |
| 19 | Kevin Johansen | Volutas De Humo | City Zen | 2:08 |
| 20 | Leo Ferre | La vie d'artiste (Version Piano) | Léo Ferré | 3:35 |
| 21 | Looper | Dave The Moon Man | Up A Tree | 5:12 |
| 22 | Jim Morrison & The Doors | Lament | An American Prayer | 2:19 |
| 23 | Gianmaria Testa | Plage Du Prophète | Il valzer di un giorno | 1:35 |
| 24 | Barry Adamson | Vermillion Kisses | Oedipus Schmoedipus | 3:03 |
| 25 | Herbie Hancock | The Jungle Line (feat. Leonard Cohen) | River – The Joni Letters | 5:01 |
| 26 | Antipop Consortium & Matthew Shipp | Monstro City | Antipop Vs. Matthew Shipp | 3:05 |
| 27 | Ruth Forman | Stoplight Politics | The United States Of Poetry | 1:43 |
| 28 | The Shangri-Las | Past, Present and Future | The Very Best of The Shangri-Las | 2:42 |
| 29 | Tom Waits | Army Ants | Orphans | 3:26 |
| 30 | Serge Gainsbourg | Melody | Histoire De Melody Nelson | 7:32 |
| 31 | Tindersticks | My Sister | Tindersticks (2nd Album) [Deluxe Version] | 8:11 |
| 32 | Slint | Good Morning Captain | Kids Original Motion Picture Soundtrack | 7:39 |
| 33 | John Cooper Clarke | Beasley Street | The Very Best Of | 6:44 |
| 34 | Talking Heads | Seen and Not Seen | Remain In Light | 3:25 |
| 35 | Jim Morrison & The Doors | A Feast of Friends | An American Prayer | 2:11 |
| 36 | Ben Watt & Estelle | Pop a Cap In Yo' Ass (Radio Edit) | Buzzin' Fly – 5 Golden Years In the Wilderness – Unmixed and Selected By Ben Watt | 4:08 |
| 37 | Cake | Short Skirt/Long Jacket | Comfort Eagle | 3:24 |
| 38 | Tom Waits | Nirvana | Orphans | 2:13 |
| 39 | Arab Strap | New Birds | Philophobia | 6:28 |
| 40 | William S. Burroughs | A Thanksgiving Prayer | Dead City Radio | 2:22 |
| 41 | DJ Vadim | Your Revolution (feat. Sarah Jones) | Ninja Tune Retrospect (No. 1) | 4:12 |
| 42 | James Brown | King Heroin | There It Is | 3:58 |
| 43 | Tom Waits | What's He Building In There | Mule Variations | 3:20 |
| 44 | John Cale & Lou Reed | A Dream | Songs for Drella | 6:33 |
| 45 | Cake | Mr. Mastodon Farm | Motorcade of Generosity | 5:28 |
| 46 | The Specials & Rhoda Dakar | The Boiler | Stereo-Typical: A's B's & Rarities | 5:47 |
| 47 | Tindersticks | Chocolate | The Something Rain | 9:04 |
| 48 | Gil Scott-Heron | The Revolution Will Not Be Televised | The Revolution Will Not Be Televised | 3:07 |
| 49 | Van Morrison | Coney Island | Still On Top – The Greatest Hits (Deluxe Version) | 2:04 |
| 50 | Jim Morrison & The Doors | The Ghost Song | An American Prayer | 5:16 |
| 51 | Lazyboy | Underwear Goes Inside the Pants | Underwear Goes Inside the Pants – Single | 4:54 |
| 52 | Dead Kennedys | Night of the Living Rednecks | Give Me Convenience or Give Me Death | 5:10 |
| 53 | Tom Waits | Missing My Son | Orphans (Bastards) | 3:38 |
| 54 | Billy Bragg | Walk Away Renee | Must I Paint You a Picture?: The Essential Billy Bragg | 2:24 |
| 55 | The Clientele | Losing Haringey | Strange Geometry | 4:02 |
| 56 | Arab Strap | The First Big Weekend | The Week Never Starts Round Here | 4:53 |
| 57 | Maxïmo Park | Acrobat | A Certain Trigger | 4:43 |
| 58 | William S. Burroughs | Words of Advice for Young People | Spare Ass Annie and Other Tales | 4:42 |
| 59 | Linton Kwesi Johnson | Sonny's Lettah (Anti-Sus Poem) | Reggae Greats: Linton Kwesi Johnson | 3:52 |
| 60 | Looper | Impossible Things #2 | Up A Tree | 5:23 |
| 61 | Gil Scott-Heron | Whitey On The Moon | The Revolution Will Not Be Televised | 1:29 |
| 62 | Benjamin Biolay | Brandt rhapsodie | La Superbe | 4:44 |
| 63 | Eminem & Dido | Stan | The Marshall Mathers LP | 6:44 |
| 64 | Leonard Cohen | Democracy | The United States Of Poetry | 2:27 |
| 65 | Serge Gainsbourg | Variations sur Marilou | L'homme à tête de chou | 7:40 |
| 66 | Saint Etienne | Over the Border | Words and Music By Saint Etienne | 5:05 |
| 67 | Indran Amirthanayagam | So Beautiful | The United States Of Poetry | 2:34 |
| 68 | Milosz, Czeslaw | Gift | The United States Of Poetry | 1:09 |
| 69 | Tom Waits | Children's Story | Orphans | 1:43 |